Mamata Machinery has been building bag and pouchmaking machinery in Ahmedabad India since 1989 and Optimation's association with Mamata goes back to 2002.
We offer a complete technical backup service, including delivery, unloading, installation, commissioning, operator training, repairs and maintenance, remote assistance and spares supplies.
Equipment from Mamata Machinery offers unbeatable cost-to-output ratios in comparison to other systems on the market; our experience has been that our customers return to us time after time, knowing  that the versatility provided by Mamata's machines will enable them to respond competitively to ever-changing market conditions.
Bagmaking Machinery
In the bagmaking arena, Mamata's product range falls into three groups: dedicated Side weld machines, Universal Bagmakers and Wicketers.
For newcomers to bagmaking, here is a description of the different styles of bag, defined by the sealing method:
Side seal: Film is folded so that the fold forms the base of the bag.  The two edges are sealed across the machine, forming a very thin bead of polymer at the edge.  The bag width is known as the draw length, ie how much material is drawn through the machine each time a bag is made; the bag length is measured across the web.  The sealing blade both forms the seal and cuts the bag edge.
~photo~
Mixed or skirt side seal: The bag is formed in the same way as a side weld bag, but the seal which is formed is a short distance from the bag edge.  This short distance is the 'skirt'.  A skirt sideweld sealing head forms two seals simultaneously, then a flying knife performs a cutting action between the two seals, so that the first seal is on one bag and the second seal the next bag.
~photo~
Bottom weld:  A bottom weld bag is formed from tubing, so that the flat edges of the tube form the sides of the bag.  A single weld is formed and a flying knife separates the bags after sealing.
~photo~
The type of bag depends on its application and the appearance  and sealing strength desired by the customer.  Skirt sideweld and bottom weld bags are used where a strong seal is needed, such as with security and mailing bags.
Mamata's Universal Bagmakers and Wicketers are also capable of producing a flat pouch-type seal, illustrated in this photo:
~photo~
Dedicated side weld machines
If you only want to make simple side weld bags as efficiently as possible, the Vega 600 and Vega 750 machines are suitable for processing films up to 100 microns.
Universal Bagmakers
Mamata's best seller, the Universal Bagmaker, comes in widths of 800, 1000 and 1200 mm and can process films up to a thickness of 150 microns.  A huge variety of bag styles can be produced including security/mailing bags, carrier bags, magazine wrappers, garment bags, pillow bags, medical bags … the list is literally endless.  Bags are delivered flat, individually on to a table or autostacker.
The Universal Bagmaker can make sideweld, skirt sideweld and bottom weld bags.  Changing from one to another couldn't be simpler.  Sealing heads are quickly interchangeable.  For most jobs, a complete changeover can be accomplished within 20 minutes.  There is no need for engineering expertise, the operator simply threads the machine with the new material, removes one sealing head and replaces it with another and switches the flying knife on or off as required.  This operation can be seen in our video clip.
A wide range of accessories is available to assist in the manufacture of different bag types.  Examples are gusseting, zip insertion, flat sealing assemblies, handle and hole punches, longitudinal sealing, tape applicators, perforators etc.  If you are unsure which devices are needed for a particular bag, just send us a sample so that we can advise you.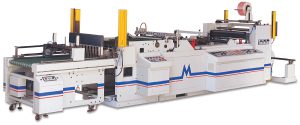 pdf for download
video clip
Wicketers
A wicketer produces side weld bags at high speeds which are delivered in batches on to pins mounted on a moving belt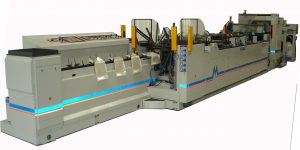 The end user then uses the wicketed bags (ie with wicket holes) in their automated packing operation.  Common applications for wicketed bags are for packing fresh produce, bread and hygiene products.
pdf for download
video clip
Pouchmaking Machinery
As with bags, there are very many styles of pouch.  For the purposes of describing  equipment, we distinguish a pouch from a bag by the fact that the seal is at least 2mm and sometimes 10mm wide. Pouches are often made from multilayer films or laminates, giving them more rigidity than most bags.
Vega 285PM
Developed in response to market demands, this is an 'entry-level' pouchmaker, ideally suited for customers wishing to test the market or to make smaller volumes of pouches.  The Vega 285PM can make flat 3-side seal pouches and stand-up pouches with or without gussets and zip.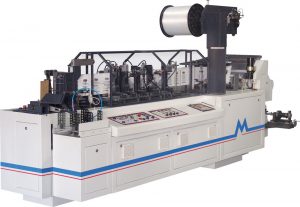 pdf for download
Vega 356CP
If your product requires a fin seal or lap seal pouch, the Vega 356CP machine is ideal.  With additional equipment, this machine can also form flat 3-side seal pouches from one or two webs.
pdf for download
VegaPlus 610, 820, 1020
Mamata's top-of-the-range pouchmaker is unmatched for versatility and offer some unique features:
Ability to process co-ex films just as easily as laminates.
Independent tension control in each machine zone.
Independent seal time control for transverse seal, longitudinal seal and zip seal.
Zip insertion and sealing without the need for flange separators.
The top and bottom sealing mechanisms both move, giving consistent sealing.
Set-up waste can be minimised by setting up the machine with the speed potentiometer set at 10%; once the job is running with all the correct parameters, move the speed potentiometer directly to 100%, which will automatically maximise output.  This is made possible due to the presence of independent seal time controls for the separate seal areas and adjustable draw speeds.
Pouch Processing capabilities include:
Three side seal pouches from laminates or co-extruded films.
Zip pouches (2-up) from laminates or co-extruded films.
Stand-up pouches from laminates from one web (1-across or 2-across) with or without zip.
Side-gusseted bottom seal pouches (1-across) with K seal (quad seal) in gusset area from laminates or co-extruded films.
Side gusseted centre fin seal pouches (1-up) from laminates.
Side gusseted lap seal pouches (1-up) from co-extruded films.
Side gusseted pouches with bottom seal, quad seal in gussets and zip (either press-to-close or slide-type)
Pouches with Tyvek strip inserts
Chevron seal pouches for medical applications.
pdf for download
video clip