In line with their strategy of continuous improvement and development, leading UK manufacturer of paper bags and sacks, Forum Packaging, has invested in a new EVOLUTION CI flexo press.
Derbyshire based packaging and converting machinery specialist, Optimation Ltd worked with Forum Packaging to select the bespoke press from Expert S.r.l. which features inline slitting and a shaftless unwind. Optimation Director Helen Mitchell comments "Expert are renowned for their technical ability and their customer service. They manufacture some of the most technologically advanced Flexo printing machines for the flexible materials sector and I had no hesitation in recommending their machinery engineered for Forum Packaging's particular application."
The 1.3m wide press has 8 print units plus a downstream unit for lacquer or other coatings.  It benefits from Expert's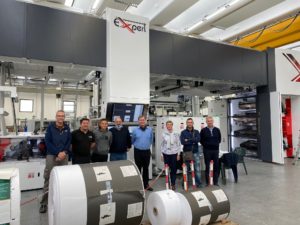 automatic inking and washing system and doctor blade chambers with tool-less blade changing.  Automatic pressure and print register settings minimise waste material during job set-up.  The 100% web view cameras enable the operator to see the whole print repeat whilst running the press at up to 500m/min.
Horncastle based Forum Packaging print and convert in excess of 60 million paper sack and bags every year. They have a policy to ensure their manufacturing processes are as efficient, green and cost effective as possible. Rob Massey, Managing Director says "Alongside anticipated improvements in efficiency and productivity, our team welcome the increased capacity provided by the Expert machine. It which will enable us to approach new markets, whilst continuing to offer great service to existing clients."